Do you want to learn how to box?
Welcome to Boxing for Life! This site is dedicated to teach individuals how to box, and to give back to the sport that has helped change my life. Here you will learn the basics of how to box and train.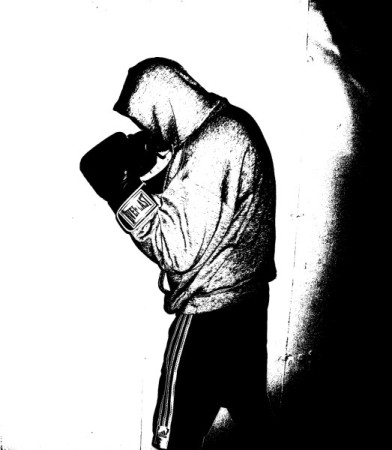 How many times have you flipped through the channels and caught yourself stopping to tune in to a scene from one of the Rocky movies?
I, too, got caught up in the movie's theme of hard work and determination prevailing over all. As with most kids Rocky was the reason I got involved in the sport of boxing. Every time I would watch one of the movies I would find myself outside training to the soundtrack.
What fascinated me the most was Rocky's pure determination to go the extra round. Even more impressive was the shape that Sylvester Stallone was in for the movies. It would not sink in until much later that boxing and conditioning is hard work.
Everyone wants to either learn how to throw a punch or dodge one. However there is far more to boxing, such as getting your body ready and conditioned for what boxing is about to do to it.
Here you will learn the basics of boxing, from how to throw the common jab, cross, and hook, to learning proper form for push-ups, squats, pull-ups and chin-ups. Boxing exercises and weight training are just as important as learning to punch.
This might seem overwhelming at first, but I have broken the site down into different steps ranging from beginner boxing tips all the way through advance boxing training works outs.
Throughout these sessions you will begin learning how to box one step at a time. You will not only learn to box, but also how to condition your body. Soon this will become something that you look forward to.
Learning to box will take time and a lot of effort. We will provide you the tips and tricks on everything you will need to know at no cost. It will not be an easy task but nothing good ever comes easy.
Simply follow the on-site navigation bar on the left hand side of your screen in the order listed to progress through the program.
I would like to personally be the first to welcome you to your one-stop shop on how to box. Good luck and good training.
Tyler

Table of Content
---
The boxing for life blog will keep you up to speed on all the latest changes on the site.
Learn what it takes to becoming a boxer.
Preparing to Box outlines all of the basics a beginner will need to get involved in the sport of boxing
This covers the boxing basics from how to throw your first punch to simple boxing drills you can do at home.
Here I will discuss boxing training and how to approach it.
Here you will how to punch learning all of the basic boxing strikes.
Here I have laid out some great boxing combinations with instructional videos. No fight is won by simply throwing the same punch over and over again this is why combinations are important.
Boxing defense is just as important as the offensive side so here we cover the basics.
This is a sample boxing routine
This page is an introduction to sparring discussing what sparring entails and what to expect.
Here you will find some great boxing tips to help start off your boxing training.
A quick look at what boxing gear you will need to get started.
Basic workouts to help increase strength without weights
Here we discuss boxing weight training and its importance for boxing.
We will focus more on Advanced conditioning to prepare fighter to get into fighting shape.
Nutrition plays a key role in your training and diet. Following good nutrition tips can lead to a healthier you.
Get your boxing news and anylsis here get the boxing for life take on the fight world.
In the world of combat sports MMA is an upcoming phenomena. Learn what it takes to get involved in the world of MMA.
Learn how to kick with this easy to follow guide with demonstrational videos
weight classes
An introduction to HIIT (High intensity interval training) and its uses in boxing.
An introduction to plyometrics and how they can benefit you.
Read are boxing product reviews before making any major purchases. This will greatly decrease your chance of buying an inefficient product.
Free boxing advice have a question simply ask the boxing community
googlee7e9931a02817a44
Long time boxing coach Jim Thorpe has written an article in regards to the changing of boxing over the years.
Here we offer the biography of our promoted boxing coach and writter Jim Thorpe.
A list of promoted boxing coaches who have given so much back to the sport.
This page has been dedicated to the review of the Evergel glove wraps.
Aging is something we all must face. Here you will learn about elderly exercise and it's benefits.
gym locator is the boxing for life database of gyms and trainers.
boxing links
Music really allows an athlete to bring their training to a new level. Let us share the work out music we listen to.
My personal experience with cancer and my challenge to help those fighting cancer.
This is the disclaimer/privacy page covering all liabilities for boxing for life.com.
Contact us let us know what we can do to help you have a better experience at our website.
Tell us why boxing what made you want to learn to box or what made you begin
Welcome to the boxing mouth guards page where you can learn about the importance of mouth guards and the major types.