Boxing equipment
Welcome to the boxing equipment page. You have now read what boxing gear you will need to get started. We will now take what you have learned a step furhter and discusss the importance of this gear
We will start with the essentials. First being the jump rope. I personally prefer a leather jump rope. They usually make for a faster paced work out. When looking at jump ropes you have few options; Option A: weighted jump or not?
Then you have Option B; should your rope have bearings or not? I recommend a non weighted jump rope with bearings. I have found that is has worked exceptionally well for me. The cost of a leather jump rope with bearings will run around 20-25 dollars American.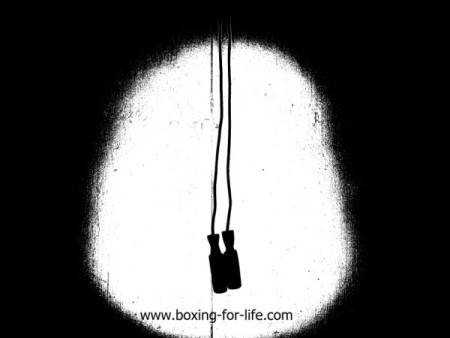 Next we arrive at the mouth guard. This is a very important item in boxing, especially if you will be sparring or competing. I recommend spending the extra money on a good mouth guard because they offer what is often called brain cushioning.
From my personal experiences, you can really tell the differences. A good mouth guard will run around 23-28 dollars American. You may be able to purchase them as cheap as 2 dollars although it is highly discouraged.
We now arrive at hand wraps. There are several types of hand wraps. They even offer a glove that eliminates the need for hand wraps. I personally could not find a glove that fit my hand correctly so I still use wraps.
Wraps range in size usually anywhere from 108 inches youth wraps all the way through 180 inch Mexican wraps which is what I use. The Mexican wraps actually have some stretch to them and allow a tighter, stronger wrap than the traditional cotton wraps I have found.
As we continue on with the boxing equipment section you will be faced with lots of choices. You now must decide what type of gloves you want to use when training. They offer a thin ¼ inch leather bag glove. Or you can use padded bag gloves, which usually weigh around 8 ounces.
I personally train with 16 ounce boxing gloves so that when I am competing my hands will be faster. They also offer a larger variety of styles of gloves.
My recommendation is a common 16 ounce glove with the hook and loop strap, which can be purchased for around 25-35 dollars American. As you progress in your training you may want to purchase a second set of gloves.
If you have a training partner you might want to consider training mitts; a great work out for both you and your partner. You can purchase a basic borderline set of training mitts for around 35-40 dollars American.
One of the most useful items that I have purchased during my training is a round timer. They offer all types of timers ranging greatly in price and quality. I have found a relatively cheap round timer for around 15-20 dollars American.
What the timer does is sound at either 2 or 3 minutes and sounds off again when that time is up. Once the 2 or 3 minutes is up it is set for a one minute break. After the one minute break it sounds again for the start of the next round. You can set the timer for different numbers of rounds.
Finally we arrive at the heavy bag. The heavy bag offers a large variety of weights to choose from. They offer weights from 30lbs-300lbs. You also have a large variety of material that the bag is made from.
There is also a variety on what is contained inside of the heavy bag. I personally prefer the canvas heavy bag to the leather but it is all based on preference. I do recommend that if purchasing a heavy bag to buy a bag at least 70lbs.
This way the bag does not jump around as much when you strike it. I personally have a 100lb canvas heavy bag that I like very well. A middle of the line heavy bag to satisfy your needs. All your needs will cost around 80 dollars American.
There are large varieties of training bags that can be purchased such as double ended bags and speed bags. As you progress in your training you may want to consider purchasing.
When purchasing a speed bag I recommend buying a smaller bag it will be harder at first, but it will benefit you more in the long run. You can purchase both a speed bag and a double ended bag for around 40 dollars American each.
This is my evaluation and recommendations on purchasing boxing equipment.
If you have any other questions about any boxing equipment or would like to share your recommendations please submit them below.



Thank you for visiting our Boxing Equipment page. Click here to return to the Boxing For Life homepage.