Evergel Glove Wraps Review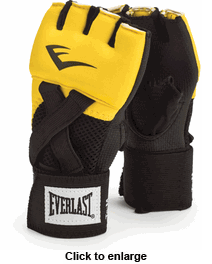 Welcome to Boxing for Life product review section. This page has been dedicated to the review of the Evergel glove wraps. The retail price of these items is $19.99 online or in your local sporting goods store.
The review of this product is based on my personal experience. As always this product will be put to the boxing for life 5 star test.
I initially purchased my first set of Evergel wraps at a local sporting goods store. I took them home after purchasing them to put them to the test. Remember they are meant to be worn under the gloves and not to be used directly on the bag. This being said I used the wraps for around 30 minute during a heavy bag circuit workout.
During the workout the wraps seemed to not fit my hand exactly the way I would have liked around the wrist. I continued my work until the end afterwards the wraps did provide extra cushion on the knuckles which I did like but the support around the wrist I found to be poor.
Upon examining the product after using it the stitching had ripped on the outside of the glove exposing my skin below. I took the gloves back to the local sporting goods store and exchanged them for a new set. When speaking to the employee working at the time they said the product was probably meant for intense training but for weekend warriors.
Hoping this was fluke I took the gloves home to try them out the following day. At the end of the work out the gloves were still intact but still lacked the proper fit and support. I continued to use them during sparring and training alike for the following two weeks. After which I noticed the rubbers palm surface had begun to rip along with ripping underneath by fingers. I have discontinued the use of this product.
Over all review for the Evergel glove wraps.
Advantage: A quick and easy to way to wrap your hands. This may not be a bad purchase for the individual who rarely uses the heavy bag. The product does offers a gel padding over the knuckles.
Disadvantage: The product appears to be poorly built. The product seems not to be made for heavy use by actual fighters. When using the product I felt like it offered very little support for my wrist.
Boxing For Life Rating: ★★ Sorry Evergel wraps maybe next time.
Thank you for visiting our Evergel glove wraps Review page. Click here to return to the Boxing For Life homepage.